Latest Pantomime Information
Recent pantomimes in Eaton Bray Village Hall have been run by Curtain Call Theatre Group.
Check out the www.curtaincalltheatregroup.co.uk website for full details.
January 2017 - Aladdin
The 2017 pantomime was presented by Curtain Call Theatre Group
January 2016 - Dick Whittington
The family pantomime adventure
The 2016 pantomime was a joint production by Curtain Call Theatre Group and Edlesbray Players.
January 2015 - Jack and the Beanstalk
The 2015 pantomime was presented by Curtain Call Theatre Group.
March 2014
Our thanks go once again to Pete & Ronnie Farrar for staging their seventh annual village panto.
Over the years, they have worked tirelessly for our community and deserve our utmost thanks for delivering a community project that almost every other village would envy.
Sadly, however, they have expressed the wish to hand over to someone new although they are more than happy to continue to help behind the scenes.
As a result, The Players Committee is presently trying to find a successor for 2015 and beyond.
---
Panto 2012 - The Pirates of Edlesbray (The curse of the village hall)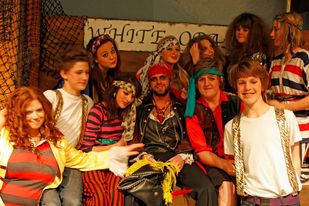 Well, the smell of the crowd and the roar of the greasepaint have faded away and this year's panto has passed into nautical history along with the Titanic and the Spanish Armada. Anyone who didn't bother to come to this year's show, then boo and hiss to you because you missed a great show, the result of many hours of swabbing the decks and climbing the rigging, put in by all the members of Edlesbray Players on your behalf.
This year we were hit by various bouts of (sea) sickness which threatened to scupper the good ship White Opel and all who sailed in her. Miraculously, just like an old episode of Ground Force, it all came together at the last minute and seemed to go down well with the almost full houses it played to.
Many thanks to all of you who helped in any way and particularly all of our loyal fans without whom we would be sunk.
The new Eaton Bray Edlesborough Lions group did a splendid job running the bar and raised £500 for the charity Medical Detection Dogs, while the teas and coffees raised £50 for the East Anglian Air Ambulance.
As usual we are still after some help with running our shows, you don't have to act, sing or dance and you're not required to paint or construct scenery if that's not your thing, you just need to be able to organise things, make phone calls and send out emails. If you are recently retired or just have time on your hands, it's great fun as we all work as a team, and it's very satisfying.
We are always open to suggestions however extreme or outrageous so send us your thoughts via the contact page on the website www.edlesbrayplayers.co.uk
---
For photos from the 2012 show, see the The Pirates of Edlesbray - 2012 Panto album on the Edlesbray Players Facebook page.
---
Revue 2009 - Colour Me Happy
The Players held another very successful review on 16th May 2009. Called "Colour Me Happy" it featured the usual troupe of entertainers who entertained the enthusiastic audience with comedy, drama and song. Our thanks go to Val Trantum and her Team who prepared and served Supper. The event raised over £400 to help to buy new stage curtains for the Village Hall.
---
Pantomimes
The Edlesbray Players have been putting on pantos since 1993/4. See the Pantomime pages for more information.
Revues
Starting in 1995 with a V.E. Day revue, this tradition has been continued over a number of years.